Bracken Bat Cave
Thanks to Joan Ivy, a volunteer for Bat Conservation International (BCI) and Capital Area Master Naturalists (CAMN), a small group of CAMN, klan and kin got a chance to witness a true wonder of nature, the nightly emergence of bats from Bracken Cave. Austin is famous for the 1.5 million Mexican free-tailed bats that put on a show each August as they emerge from the Congress Avenue bridge. By comparison, Bracken Cave is home to 20-40 million bats. Bracken Cave and approximately 700 acres surrounding it is privately held under conservation easement by BCI. Access to the cave is limited to BCI research staff, volunteers, and special guest, like me. (nanny-nanny-boo-boo.)
The statistics are astounding:
20-40 million bats, the largest concentration of mammals in one place in the world
Each night they eat an estimated 200 tons of insects
During the day, they are packed onto the cave walls at over 200 individuals per square foot
Body heat from the bats raises the temperature in the cave from a natural 68° to an incubational 108°
Pictures, as they say, do not to it justice
Video, perhaps, comes a little closer: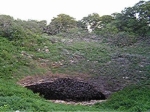 (5 MB streaming, RealPlayer Free required)
We watched them stream out like that for over an hour and a half. We left when it got too dark to see them. But according to our guide, Andy Moore of BCI, they continue pouring out for several hours after dark.
The bats sometimes show up on Doppler radar. I grabbed this loop from KXAN Weather Technology Center the night after we were there. I'm about 90% sure that what I'm seeing here are bats. You can see the Bracken bats behind the colorbar banner. You can also see bats from the Congress Avenue bridge in downtown Austin, from Round Rock, and from a cave near Bluffton in Burnett County.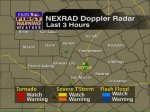 (400 KB Real, Quicktime)
What a great show! Many thanks to Andy, Joan and BCI for sharing Bracken Cave with us.
posted 18 September 2005 by Tim Scoggins